Find out why we created a 360 Virtual Reality animated video to commemorate the Blitz bombings in London.
Between September 1940 – May 1941, London experienced the heaviest period of bombing throughout the second world war. The 29th December 1940, and 10-11th May 1941, are three of the most poignant nights in London's history.
On 29th December, 1940, the Second Great Fire of London commenced – over 1400 fires raged covering half a square mile. 
London's Heaviest Night of Bombing: 10 – 11th May 1941 
However, another night in London's history is marked by the heaviest night of bombing. This occurred at the beginning of May, 1941:
711 tons of high explosive bombs were scattered over London
Over 1400 people died
1800 others were seriously injured
The fires resulted in 700 acres of destruction, double that of the Great Fire of London!
The London Blitz 360 Virtual Reality Video
Fast forward over 70 years, in 2015 we created a 360 virtual reality animation to enable school children to better understand what it was like to endure the Luftwaffe bombing.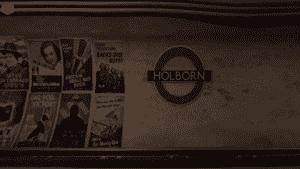 You can watch it on a VR headset, or just on your screen here.
The user experiences the 360 Blitz video through a headset which plays stereoscopic 3D video on each eyepiece. This closely mirrors the viewers head movements, giving the viewer a highly realistic illusion of being in the environment and looking around.
The viewers find themselves taking refuge in Holborn station during a Luftwaffe bombing raid on the city overhead. The distant cheery sounds of music playing gives way to the haunting and familiar sound of air raid sirens. This is followed by the inevitable sounds of bombs thudding ever closer overhead. Lights flicker and dust falls from the ceiling until the bombing subsides…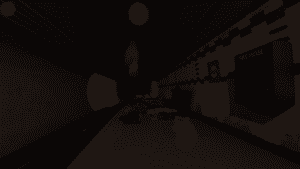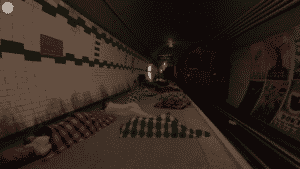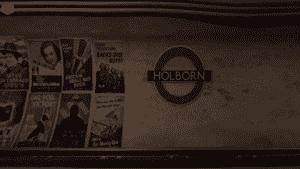 Images captured from the 360 video
Educating Through Immersive Technology
Since the early days of 360 production becoming commercially viable in around 2012, LIQUONA have taken a keen interest in developing the technology for communications. 360 videos are so highly immersive; they get your full attention … a rare and valuable occurrence in our digital world.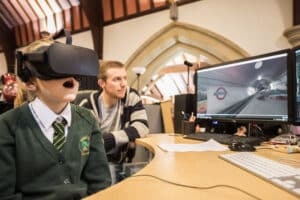 We've always believed that 360 video and virtual reality brings incredible new opportunities for education and training. Take a look at our education service page. Upon the completion of the 360 Blitz video, we approached  various London establishments, museums and galleries with the invitation to be an early adopter of the technology. We informed them of our London Blitz 360 video experience, but no one was interested. It seemed back then, that institutions didn't appreciate the innovation, but would rather stick with what they know.
It was frustrating for us, but we wanted to share our hard work so we put it out there for others to enjoy! So, the video was shared as an open source file on various websites – for 360 video and virtual reality enthusiasts to enjoy.
… In 2017, we started getting feedback that people were using it!
We received hundreds of comments online and were tagged in a video tweeted by JESS Dubai, a British School in Dubai, UAE. The'd used our 360 film in a history lesson and recorded the children's' reactions to the Blitz experience!
We're so glad they reached out to us as their remarks left us genuinely speechless. We were bowled over by the children's reactions and the impact that our 360 film had made on their learning experience.
The kids say:
"It was really quite real and helped me a lot with my writing as I could hear and feel what was happening during the Blitz."

"When you're inside the train station and the bombs start falling on you. I was just crouching down because it was so real"

"This will help my writing becauseI felt that I was actually there, even though I knew I was at school"
The teachers say:
"Teachers also remarked how virtual reality is itself a bombshell which brings new levels of cut through to aid learning, as seen in its portrayal of The Blitz." – Tom Edge, Year 6 Teacher

"I can compare the same lesson I did last year with this year's lesson on poetry to describe the Blitz. The engagement, the questioning, and the conversation that went on this year blew my mind.  The things the students were picking up on that you can't pick out just from a picture. The VR was so immersive and the descriptions we got out of it as a result were amazing. As a learning experience there is nothing else like it."
---
Here at LIQUONA, we're constantly expanding our horizons. Since this video's creation, we have developed true virtual reality production services, you can also view our vr portfolio.
Users can now use hand gestures to pick up virtual objects in the virtual film to activate and change what they experience.
Contact us if you want to start your 360 video experience!