As companies and agencies around the world start to consider the new office life, Liquona want to reflect on the pros and cons of WFH.  We want to explore if those working in creative agencies can truly be creative from home. 
Here at Liquona, we have always wanted to create an environment where talent thrives. It is important to understand how that happens and if working from home benefits this. 
Before delving into our thoughts, what does it actually mean to be creative? 
Well… there's lots of ways you can describe being creative. Essentially, it's about solving a problem in a new way and using the imagination to create something new. 
Creativity involves the ability to see new perspectives, and approaching a particular project or brief with curiosity, wonder and reflection. 
Sometimes it doesn't mean creating one idea from scratch but fusing two or more ideas to create a new one.  Our process is designed to be as creative as possible as often our clients can't be that creative internally. 
So back to the question… Can creative agencies be creative at home? 
The Challenges
Creative agencies can be seen as a social space, in which individuals can air their views and ideas regarding client briefs.  
Some of the best parts of the creative process are getting the 'what ifs', this element we saw stripped back during lockdown. The spontaneous chats about ideas now had to be planned zoom calls.
Another challenge was perhaps not getting the same bounce off other people and creative ideas. In a creative office, you can see what other people are doing and working on.
Creative inspiration can sculpt from being around other creative people and sharing ideas and sharing work.  Which is arguably harder to do in lockdown and from home. 
How are creative ideas born?
At Liquona, we approach a brief with a scoping stage and 'war room'. Our creative war room is where our design team, creatives and producers work together to explore initial ideas regarding a client project.
In this process we welcome all ideas and bounce off each other with energy and enthusiasm.  We then present multiple different ideas in relation to a brief and present these ideas to the client for their feedback. Following on from this we proceed with a couple of key ideas that are developed in more detail and fleshed out further.  These are often accompanied with mock-ups to give a better impression of how the project would look from a creative standpoint. 
By exploring various creative avenues in our war rooms, we encourage our creative teams to push the boundaries.   We can develop new and innovative content that the client connects with. 
We are also passionate about out scoping stage and how this helps with creative ideas and development. 
No matter the stage in the project development, scoping allows new ideas to form whilst tailoring to the clients needs. The process helps to eliminate the not-so-good ideas and flourish new ones. 
The advantages to home working
Creativity in the digital age is very different to what it used to be, we have learnt to adapt in a world full of technology: Zoom, Microsoft Teams made this entirely possible to connect to others, even on a global sense.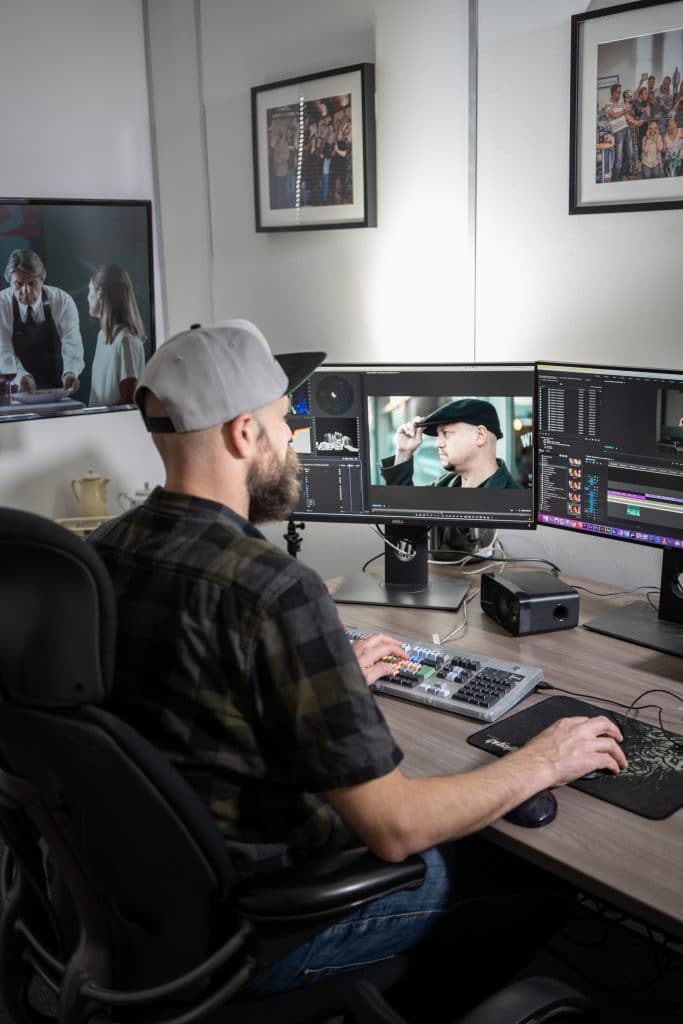 One of these advantages is a quiet headspace.  When you hit a creative brick wall you can give your mind a bit of a break & then recoup to the brief.
The flexibility to have this set up works well in some cases.  Creativity and the creative thought process doesn't necessary always fit the standard 9 -5 working hours. Creativity isn't always about structure, it's about process and freedom. 
However, it seems clear that there are positives to both working in the office and from home. 
Although working through lockdown has shown us all how productive we can be from home, as well as show the benefits of work/life balance.  From a creative stand point, working in the office is better to share ideas, collaborate and delve deeper into a brief.
So overall, yes you can be can creative at home but ultimately it is about balance. 
With that being said.. here are…
---
Liquona's 3 top tips to be creative at home:
Utilise technology: if lock-down taught us one thing, it would be the benefits of using technology. It is now completely accessible to connect and talk to your colleagues, with zoom, teams, and other meetings apps it is much easier to connect with whilst responding to a brief. There is also a visual collaboration app named MURAL: mural contains ice-breakers & team reflection, brainstorm and action items and its all online – Mural helps to understand where your team is at with ideas.

 

Change up your environment: being in the same room can suck creative energy and flowing thoughts.  Change it up by sitting in an alternative spot or go for a walk in nature – this can help trigger new thoughts and ideas
Sometimes structure helps when it comes to a working day. If your diary is full of meetings and calls, it can be useful to put in some time in your diary to allow some fully creative time.