See how we produced a creative TV advert for Curchods Prime. 
Now, we all know the loveable meerkat duo Aleksandr and Sergei, the operatic singer with the crazy moustache, and even the gorilla who played the drums. Effective TV adverts captures audience attention through clever branding, exciting visuals, and creative messaging. 
When Curchods approached us to make their TV advert we couldn't be more excited to take on this opportunity! 
CURCHODS PRIME TV ADVERT – HOW DID WE DO IT?
Would you believe us if we told you that a spa hotel in Heathrow was the next best thing to the Caribbean. No? If you haven't already … watch here to see Curchods Prime's first TV advert!   
Let's rewind a little. How did this project start?
Our process started with a scoping stage –  a stand alone stage that allows for a creative exploration of ideas before the project starts. We explored various creative avenues to reach a point of three or four key ideas that were presented back to Curchods for feedback.
Creative agencies often operate in creative chaos. Now, you might imagine this affair to be something like the House of Commons with shouting and jeering and little organisation. However, at Liquona we pride ourselves on our robust structured processes to methodically work through creative ideas. Without this, ideas can snowball and suddenly everything is an option and nothing is an option! 
We use the following information, taken from our client questionnaire to determine what the creative project needs: 
Campaign objectives
Barriers to entry

 

Campaign Strategy
Target audience

 
The creative route was decided. The Curchods Prime client will be relaxing at a luxury/tropical destination, while Curchods Prime does the heavy lifting.
Heathrow or The Caribbean?
We needed to create a story that illustrated the fact that people who sell through Curchods Prime are in safe hands, so much so, that they can go on holiday and relax! Unlike other Estate Agents, selling with Curchods Prime is NOT stressful, time-consuming, or a hassle. Instead, it is Property Expert Ease. 
As flying to the Caribbean was not a viable option (darn it!) we improvised! Now who would've thought that a spa hotel in Heathrow could look just as good … Oh the power of careful lighting, props, and camera positioning!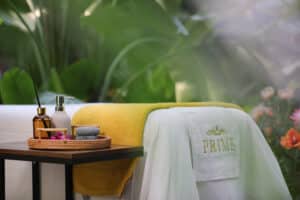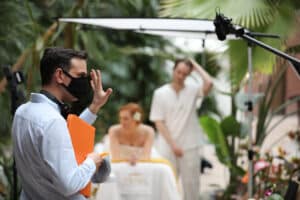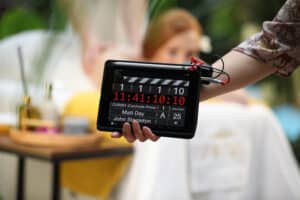 How can your brand get on The Telly Box?
TV advertising isn't a service reserved for the big guns like John Lewis or M&S. In fact, Adsmart from Sky allows businesses of any size to get their adverts on TV, in a defined and targeted audience way.
This advert was created with a very specific target audience in mind, and Adsmart form sky allowed us to segment and define that audience using age range, postcode, and income. Excitingly, this means you can target your ideal consumer right in their own home.
At Liquona we're a One Stop Shop: we can provide a standalone creative scoping stage, create the advert, and get it on TV. View our tv ad production services.
What are the key ingredients for a successful TV advert?
In summary, the key ingredients for successful tv advert through Liquona: 
A clear objective (the 'why' behind the campaign): is it business growth, brand awareness, promoting a particular service, a re-brand, perhaps?

 

A clearly defined audience: this will lead your decisions throughout the creative process.

 

A clear message: what do you want your audience to know? What is that key bit of information? How will that be communicated visually on screen?

 

A creative tag line:

Tesco 'Every little helps'

Nike '

Just do it'
LIQUONA 'We make you look good'
Curchods 'Property. Expert. Ease'
Data, Data, and More TV AD Data!
You want to know how successful the Curchods Prime's TV advert was don't you…
By now you already know that Sky will only play the advert to the people to the people you want it to be seen by! This TV ad was shown for just over a month between April and May 2021. 
Impressions: 
Impressions are the number of times the advert is shown on television in total. Curchods achieved a 104.1% impression rate.
Projected: 98, 196
Achieved: 102, 220
Reach: 
Reach is the total number of households that the advert was played to. Note the impressions are higher as each household would have been shown the advert more than once.
Projected: 14,410
Achieved: 10, 590
Frequency: 
Frequency measures how many times the advert was shown to each unique household.
Average number of impressions: 9.7
Results: 
Hundreds of leads were attributed to the TV campaign. with dozens of resulting sales.
The cost per sale for the media was a couple of hundred pounds, and for the ad production around double that:  LIQUONA were a one stop shop solution for just a few hundred pounds per sale! The client came back for a second TV advert – read about that here.
How did Curchods feel about their creative Prime TV advert?
Wonderful company to work with – the team at Liquona really took the time to understand what we wanted from our TV campaign and provided some great ideas for a concept, then held our hand throughout the creative process to make sure we got a great looking end result that met our objectives. Highly recommend the team. Thank you again – Graeme Wadhams, Marketing Director at Curchods