MoVI. The game changing handheld stabilising rig.
The MoVI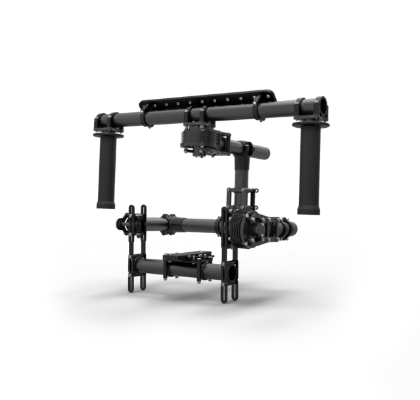 It may not look like much, but to indie studios and filmmakers around the world this is a game changing bit of kit. It is a handheld, three axis stabilised camera gimble that the manufacturers Freefly Systems say is "so advanced, it redefines the possibilities of camera movement". While steadicam kits have already been creating these kinds of shots for years they're all massively expensive and can take years to master. With this bit of kit you can apparently be up and filming with it in a matter of minutes and it's cheaper model is going on the market for only $7,500 which is roughly about £5000. Which considering what small studios are already spending on rigs and steadicam rental make this a relative bargain! It's ease of use is pretty astounding, making everyone a steadicam operator.
It's packed with neat features like user adjustable shakey cam, a silent motor drive, and live wireless tuning.  It's also very light at only 3.5lbs making this extremely portable even when you put your bare bones RED or DSLR on top of it.
The market might get a little bit rattled by this. Even the slider and tripod markets might take a hit since you can make all these movements quite effectively with just this bit of kit.
With NAB just round the corner expect this to make an appearance and a lot more news about it to turn up.
The MoVI video:
The MoVI BTS:
The MoVI being used: