Why not to record sound with a DSLR
We at Liquona are quite lucky when it comes to recording sound on our various video production jobs. We've never had to record sound with our DSLR because our professional and broadcast cameras will do that for us.
Our Sony Z5 comes with a pair XLR outputs from which you can plug nearly any high end microphone of your choice and record directly into the camera. DSLRs on the other hand really aren't built for sound recording and feels like it's thrown on as an after thought. In the same way that with the early video production DSLRs (500D) the video mode came with very few options and felt like it was tacked on at the end whereas Canon's newest releases (60D) come with far more options and a much better idea as to how to do this, and I'm hoping it'll be a similar story with the sound issues they have.
But for those that have taken the considerably inexpensive leap and shoot entirely with DSLR there a great number of options for recording sound.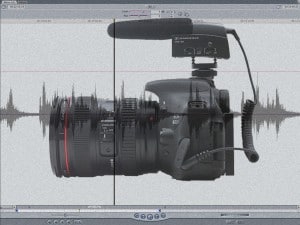 Sennheister MKE400
First up is Sennheiser MKE400: a microphone that you slide into the hot shoe on the top of the camera and the cable plugs into the mic slot on your DSLR. This thing is brilliant if you want to record interviews and clips on the go, say your making filming a live event for example and don't have time to fuss over setting it all up.
This mic is a Sennheiser and as such you can expect great sound quality, and because of its base any wobble will be minimised so any camera shakes shouldn't pick up. It's also great if you want to quickly take a photo while you shoot as unlike a couple of other microphones there are here it doesn't stick out the back making you unable to get your eyes to the viewfinder. It's moderately priced at £160 which is a little more expensive than other mics with more options but it's main advantage is that it's quick to set up, easy to use and records directly into the camera so you don't need to sync it up later in post. Unfortunately you don't have any recording options with it, which I feel is it's biggest downfall as a sound recorder, but since it's clearly meant for use on the move this doesn't really matter. It has some stiff competition in the Rode VideoMic which essentially does exactly the same thing and is about half the price, even the Pro version of the Rode VideoMic is cheaper. Have a look around the numerous DSLR forums as see which ones best for you as they're all considered low budget options.
Zoom H1
This next one is one of my favourites. The Zoom H1 is the little brother of the much bigger Zoom H4N and looks like a pimped out dictaphone with all it's many buttons and options. Like the Sennheiser MKE400 it sits on top of your DSLR via the hot shoe mount and happily records what ever is put in front of it. It has a number of advantages over the MKE400 is that it has a ton of recording options. You can record in wither WAV or Mp3 at various different bit rates and kHz. It's got a mini jack line out plug so with the right adapters and wires you can plug big microphones into it and use it as a recorder only. Not to say the microphone on the Zoom H1 isn't bad, it's really not. It can deal with anything from promo video production to recording live gigs. The latter I was particularly impressed with. The sound it can produce is loads better than anything the DSLR mic can create. The Zoom H1 is also considerably cheaper than the MKE400 at around £90 you do get a lot more bang for your buck. But it does come with some disadvantages. First and foremost is that it wasn't made for DSLR filming like the Sennheister MKE400 was, more it's been adapted for it. As such I had to import a screw/hot shoe adapter from China just to be able to stick it on the top and as a result of that it picks up all the vibrations and knocks that your camera may get and makes recordings unusable. Want to change the focus whilst you film with the H1 on top? It'll pick that sound up. I've found it's probably best that when recording something like a promo/documentary/corporate film with it your better off sticking it elsewhere. It's also very awkward if you want to take a quick snap as the bulk of it sticks out the back over the viewfinder.
Zoom H4N
One of the best and more expensive options is the Zoom H4N. This handy recorder has gained a reputation among DSLR videographers as being THE go to sound recording device for DSLR. I've used the device a handful of times and the sound quality this makes is incredibly good. It's XLR ports also allow for you to stick big shotgun mics into whilst happily attaching your Zoom to your DSLR via a rig of some kind. This thing isn't cheap though and to get the most out of it you'll need to get a small amount of attachments and accessories which will cost a fair amount so has put itself very much in the Pro section of the industry.
These are just some examples of how to do it and some that I've had personal experience with too. There are plenty more types of recording devices and it only takes a quick Google search to find them too.
With the latter two microphones as they're both recording separately to the DSLR recording you'll have to sync them up together in Post. There are various ways of doing this. The new FCPX can sync to separate audio tracks up with ease while older versions of Final Cut have the free plug in Plural Eyes which will do it for you. Annoyingly with Adobe Premiere Pro you'll have to do it manually which may take a few minutes which is annoying if your on a deadline.
I'm speaking on experience with using DSLRs for a variety of video production shoots such as dramas, live music, documentary, promotional films etc.
Hopefully the future will bring us DSLRs with a XLR output and sound levels on the screen or something along those lines. But I've got a feeling Canon won't as the they won't want to jeopardise the sales of their professional range of cameras as if say the new 5D Mark III comes out with as much audio functionality as a professional film camera people will just by that instead as it will be several thousand pounds cheaper. Which is why I've got a sneaky feeling Canon will hold back deliberately unless Nikon or Panasonic do it…