The Importance of a Talking Head Video
Talking head pieces have been around for decades and there's a reason they're not going away.
If done well, they give you an honest and authentic insight into a company. These are real people sharing their connection with the business and you can instantly tell from their eyes whether they really mean it – "The Camera Never Lies." Talking head videos feature employees talking directly to camera or to an interviewer who's stood to the side of the camera.
So what makes a good talking head?
Good framing – technically a good talking head should be well-framed with an interesting backdrop with depth behind the interviewee like in this film we did for Royal College of Psychiatrists.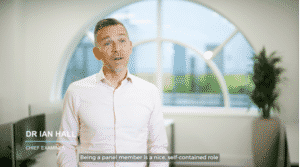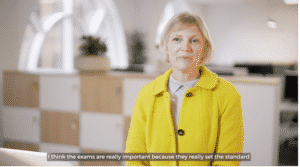 By using prime camera lenses we can create depth of field to the shot that will feel stylish and visually pleasing.
The location needs to be spacious and quiet.  Try to avoid plain, small or stark office spaces – it's an opportunity to show off your workplace to future clients and employees.  Check the space doesn't have noisy air conditioning or road works just outside or people walking in and out.
Clothing is important – prior to filming encourage the talking head to bring bright colours and options to choose from on the day as a coloured jacket can really help a video pop – like this yellow jacket in the RCPsych film.
Use 2 cameras – this really helps create dynamic videos and also helps you cut down content in the edit as you have something else to cut to!  By changing the camera angle on the subject your viewer is less likely to get bored.
Include cutaways – simple shots supporting the story really brings a talking head video to life.  Whether it's of someone cycling to work, in a meeting or working at their computer. They can be filmed in a cinematic, beautiful way that will visually engage the viewer and enhance your message.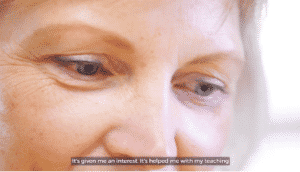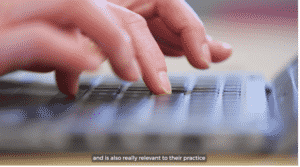 Relaxed contributors – It's essential for the subject to come across as relaxed and at ease on camera as if they're talking to a friend in a café.  The director's job is to help set them at ease and tease out genuine, short and succinct answers.  If the answer is too rambly – the director is there to ask for another version.
Lose the script – it's good to come prepared but the talking head shouldn't come with exact lines to remember as you can see that they're thinking too hard on camera.  They should come prepared to answer questions that will draw out great content.  In this RCPsych piece the psychiatrists came and answered 4-5 questions and we honed the answers until we were all happy and they felt genuine.
Consistent eyeline – The contributors need to lock eyes either with the camera lens or the interviewer as roving eyes can distract a viewer and make them feel awkward.  In this RCPsych piece we had them looking directly to the director to the side of the camera.  But, in another RCYPsych piece we wanted the talking head to look straight to camera so we used an eye direct which is a piece of kit fixed to the camera lens with a reflection of the interviewers face.  This helps draw out emotion and authenticity from the talking head as they feel like they are interacting with someone and not just looking at an impersonal lens.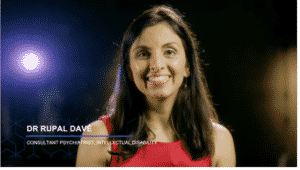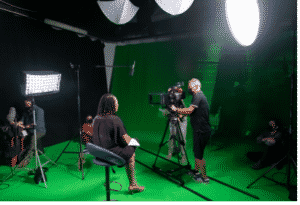 VALUE OF A TALKING HEAD
Talking head videos showcase the people behind the company and this helps to build confidence and personal connections with your audience.  This is why we put real people on screen and don't just record their voices or use text.  Talking heads if done right can engender an emotional response in their viewer.  This is important as an emotional response is memorable and encourages the viewer to take the desired action from this video.
This is evident in the RCPsych film where the aim was to recruit more psychiatrists to be examiners.  After just 4 days of the film being broadcast on social networks they'd had over 100 applications to be examiners and our client was delighted.  This response is due to the talking heads speaking in a really heart felt way about the benefits of becoming an examiner.  Other psychiatrists were compelled to apply which is just what we wanted!
So why not invest the time and resources to make a quality talking head video?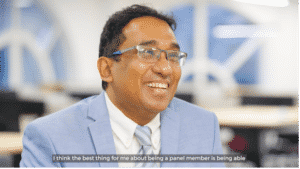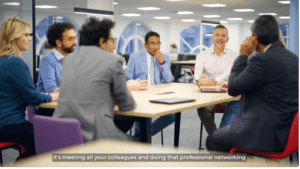 Client Testimonial:
"Many thanks for all the great work on the videos. We are really impressed and they were very well received.  The CASC recruitment campaign is going well and we have already received over 100 applications in 4 days. A big thank you to you and the team."

– Liam Wynne, Interim Head of Examinations at RCPsych