Working with the Wally Dolly
Above is me filming a tracking shot with a 7D and a Wally Dolly. The Wally Dolly is really easy to work with. With two people, you can get it from the bag to fully assembled in about 3 minutes, that makes it a fantastic bit of kit. Once setup the build quality is very good, and very easy to operate. The whole system feels virtually friction free, meaning you can concentrate on the camera operation and not the movement. It would be easier to operate with a grip assisting, but not essential.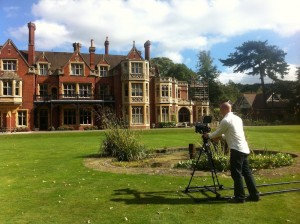 Limitations of the Wally Dolly
The only limitation of the dolly is that you need a relatively flat surface. I know that this is part of the design, making the whole unit light and easy to setup, but it's still a limitation.
Overall, after a day of setting it up, packing it down, carrying it around, I love it!
Corporate Video Production by Liquona London