BTS Studio Filming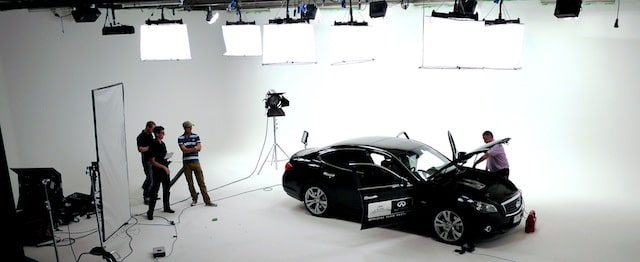 Filming in a Studio
Video Production in a studio is always a great day out, but not without its challenges, especially when you're filming with cars. Because of the lighting setup and the fire risk, the cars have to be emptied of almost all the fuel. On this shoot this proved more difficult than it should be due to an 'anti-siphoning' device on one of the cars!
The Cobra Video Shoot
Here we are filming a video for Cobra UK. This is a product video advertising an in-car entertainment system. One of the big production issues to overcome was lighting inside a car, and even the inside roof of the cars. Most of the studio lighting was on the ceiling of the studio, so extra lighting, reflectors and battery powered LED lights were needed.
Filming inside the car can become very cramped! We wanted to get a shot that gave the illusion of looking back at the passenger from the point of view of the entertainment system. To do this we had to remove the headrest (which was cabled in), which can be seen hanging from the seat!
For this shoot the camera of choice was the Canon C300, which is an excellent camera! Here we're filming on a 'wally dolly', looking into the car at the entertainment system. We also had an external monitor on the shooting rig to help the Director Oliver Hall.
Here is a snap of the Director and Cameraman discussing a shot:
At the end of the day we were working on the establisher shot to the video, here is a sneak peak!
BTS video
We are working on the Behind the Scenes video from this shoot. Once it's available we will post it on our blog for you to view, along with the main film.