Filming with Liquona
Are you struggling to know what to wear on camera? Well, here at LIQUONA, we're filming experts. That's why so many clients trust us to make them look good. We are confident that you will enjoy the experience of filming with us. That's why we've created this contributor filming guide to make sure you feel prepared and confident in front of the camera. 
If you haven't been filmed before, there are some things to consider that you might not have thought about. There's more to think about than just what to wear on camera! 
What shall I expect from the crew?
The Liquona crew will arrive early to set up any lights and kit. The crew will cause minimal disruption.
Our job is to make you look great on camera: the crew will guide you on how to present yourself.
Don't worry, we are very used to filming with people who are new to being filmed – it's our priority to make sure you enjoy the experience. We will do everything we can to put you at ease. If you have any questions, or want feedback whilst we are working, just ask us!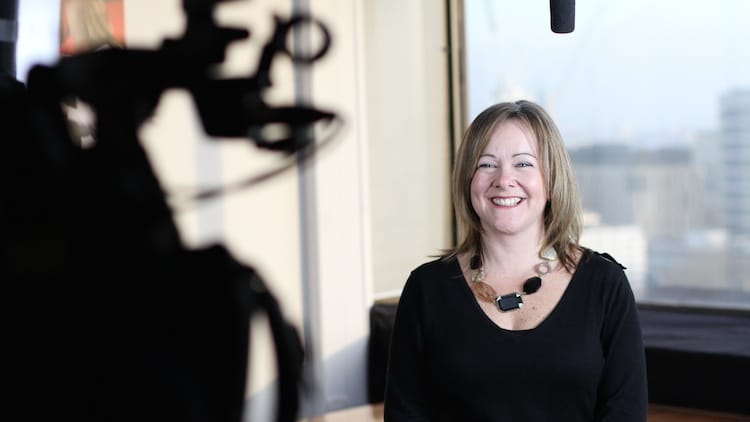 What do I wear on camera?
Are you struggling to know what to wear on camera? Not everything that looks good to the eye, looks good to the camera.
• Avoid brilliant white if possible. It can be too bright on camera – colours look best, as Gok Wan would say!
• Avoid black if possible. It can appear too dark on camera to be clearly defined.
• Close check and line patterns can strobe on camera which can be very distracting for the viewer. Stick to plain patterns or block colours.  
• We recommend avoiding highly fashionable or trendy clothing if you do not want the film to 'date'.
• Large or bold slogans can be distracting to the viewer, so wear something with discreet branding.
• Bringing an alternative jacket or top is a good idea, just in case!
Do I need to wear make up?
It's not just what you wear when filming. Our skin can also look different on camera than real life. Makeup is used across the industry to combat any 'issues' that crop up when filming with contributors.
This can range from:
Shiny skin from the hot lights.
Colour correcting (on the skin) e.g., dark circles under the eyes, pimples, redness.
Ladies and gents, please apply makeup as you usually would, or be prepared to have a little powder put on!
To be (with autocue) or not to be (with autocue)
Filming without autocue:
We recommend that you rehearse what you are wanting to say before we arrive.
In this case, make sure you're familiar with the content and you will come across as more relaxed on camera.
Filming with autocue:
Familiarise yourself with the script or content that you will be delivering.
You don't have to learn it, but it will help you if it is fresh in your mind.  This helps give a natural performance and masks the fact that you're reading.
---
What our clients say about filming with us
We've worked with LIQUONA on several occasions and their friendly, knowledgeable and professional approach has helped non-professional presenters feel at ease in front of the camera every time. Their ability to turn any location into a mobile studio means that top class, professional results are always achieved.  I would whole heartedly recommend LIQUONA for any of your video production needs – Mick Clark – Corps Security
Let us know if you have a question that's not in this contributor filming guide at info@liquona.com – no question is too silly!
If you'd like to see more images and videos from behind the scenes then take a look here!
We look forward to working with you!