There's a resurgence in the presenter led brand films, and we're excited! 
In the era of Netflix, YouTube, Amazon Prime, TikTok, and- oh we could go on, there is greater emphasis and expectation placed on quality and engagement of video content.
The Presenter Led Brand Film is making a comeback. No longer are brand choosing to create stuffy and boring corporate communications. Instead, pioneering brands  are at the forefront of this latest video trend; using presenters to engage directly with their audiences.
CIPHR's Brand Film
Last year, we created a highly engaging and stylistically controlled video for HR software and systems brand CIPHR.
In short, a brand film should be a one stop shop which informs the client who you are, what industry you operate it in, and your brand personality. CIPHR's brand film needed to represent their core values and service offering, and therefore needed to achieve a professional yet engaging tone.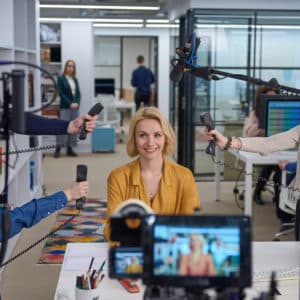 The presenter, at the heart of presenter led brand films, personifies of your brand. Therefore, as a representative of your brand personality, they must fit the bill. We hired a professional actress to be the face of CIPHR's brand film. The strong female lead travels through a typical office setting, engages with other staff, and you – the viewer.
We communicate more by how we say something over what is said, and that's why we needed to personify CIPHR's brand through a personable and engaging actress! 
We're Control Freaks
…But only when we need to be. Paid actors and extras allowed us to gain more control over variables within the office setting. We directed the movement of people in the background of the shot, what people said, and how they interacted with the camera. 
We also constructed the perfect lighting, clothes, hair and makeup and the office set up. These measures contributed to a thoughtfully curated production which resulted in a quality and high production value video.
Content is King!
For brands that want to appear contemporary, they must understand the value of content that responds to emerging trends to capture and maximise viewer engagement. 
The more engaging the content, the higher the return on investment (ROI). 
But what is engaging content?
Engaging content for one brand won't be the same for the next. We encourage our clients to hone in on their core message to ensure their video is aligned with their business objectives and their target audience. 
Engaging content must provide viewers with something unexpected, a new angle or perspective. We believe the Presenter Led Brand Film does so. Brands can recruit a presenter to represent their brand best, whether that's sassy, strong, intelligent, or confident lead to be the face of their brand. 
A viewer must relate to the content in some way to be engaged. Whether that's curious about your product or service offering, resonate with your core values, or are simply inspired by your video.  
Find more examples of our brand videos here.