SeeAbility
SeeAbility are a 220-year-old UK charity that support people with sight loss and multiple disabilities.
The charity wanted an experiential service that they could use at events to raise awareness around the issues around sight loss. View our charity video production services.
Kaboom!
So when we heard the brief, that's exactly what we created for them. We produced a ground-breaking virtual reality experience. This propelled their experiential communications beyond anything their competitors had ever seen, let alone were producing!
Virtual Experience of Sight Loss
LIQUONA conceived and produced a highly immersive virtual reality experience. The focus? To enable users to self-select and engage with various content, all hosted in a true VR landscape.
We created an experience where users can simulate a range of sight loss conditions.
Why?
Because immersive experiences promote the truest insight into the life of another. Sight, sound, and movements are confined to the virtual reality landscape, so the user experiences an alternate, virtual, reality.
Wearing a VR headset, users could watch a 360 film. During this, they experience symptoms and side effects, similar to the challenges that those with sight loss face. We also created a series of tasks where users can undertake a physical challenge that simulates learning disabilities.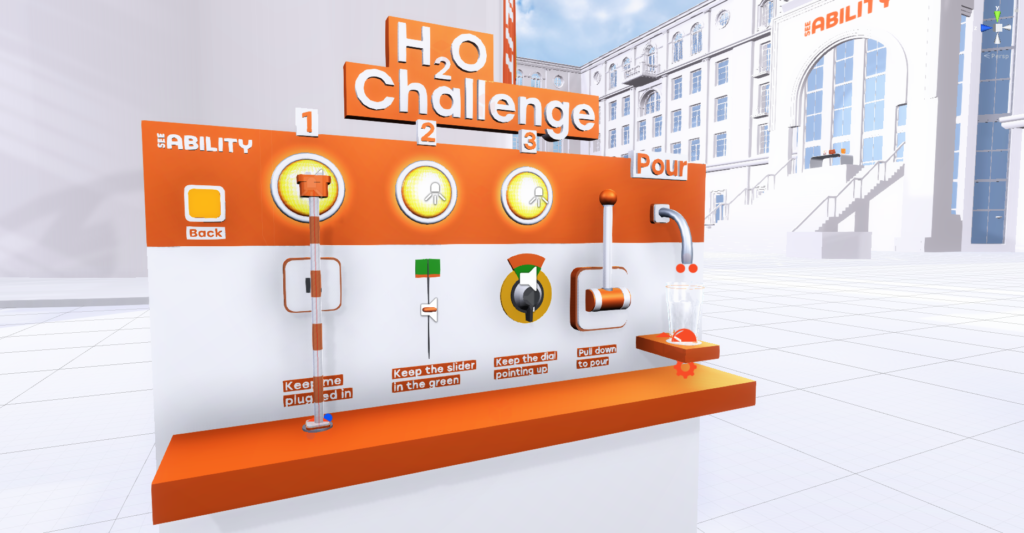 Our VR challenge frustrates the user's attempts, simulating a learning disability
This moving image project was created with various end users in mind. SeeAbility used this as an orientation piece for staff and volunteers, as well as a fundraising attraction for the public.
Nothing else allows you to better experience life as it is lived by the people that SeeAbility help.
---
Most of our virtual reality work is not on our website. It is, in fact, guarded in a high-security part of the building by special forces squirrels.
If you want to see for yourself the groundbreaking VR work we undertake for organisations big and small, just give us a call on 020 7757 7473 and we'll get you past the squirrels, or you can visit our virtual reality production service page.