Did you think the BBC were broadcasting straight out the Olympic hotspot in Tokyo!? Green screens are a truly wonderful technical invention…
Many assumed that Clare Balding and her hosts were right in the middle of the action in Tokyo, just like most other sporting events…
Salford or Tokyo?
The bubble was quickly burst when Chris Hoy shared a tweet which showed the hosts on a gigantic green screen. How on earth could they have so many convinced!?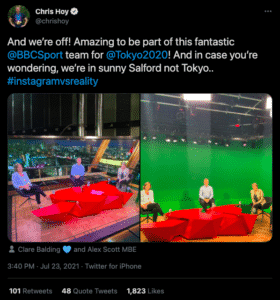 So why didn't the commentators fly to Tokyo? Well, namely the Covid-19 pandemic is likely one of the biggest reasons for the commentators not to attend. However, there are way more exciting reasons for the BBC to invest in this gigantic green screen in aid of the Tokyo 2020 Olympics. 
It gives the sense of being right there in the action without having to be
Reduced carbon footprint; it is estimated that a return flight for one person from London to Tokyo emits 775 kg CO2.

 

That's one third of the target emissions per person for an entire year.

 
The Techy Bit
For green screens to work there has to be lots of computing power to remove the green and replace it with an image.

 

This is fairly straightforward on static shots; weather presenters have been doing it for decades.

 

On moving shots however this is another ball game.

 

When the camera moves, like the studio wide shot, the computer has to convert that exact same movement into the background 3D model to make it look realistic.

 

The only way to do this is with a motorised camera rig that can repeat a precise movement again and again.

 

The type of movements possible with rigs

like this from our client Shotoku

.

 

The most impressive bit of all, is doing this live.

 

All of this complicated computing has to happen live in sync with the action. That requires mind bending computing power, all for the pleasure of you, the viewer!

 
Eurosport interview Tokyo-based medal winners from Salford. In a fantastic bit of television viewing, Eurosport fooled their viewers into thinking their host was interviewing medalists right there in the studio. In a similar approach to the BBC, Eurosport are using technology called 'The Cube', an interactive 4m x 4m and mixed-reality studio that combines augmented reality (AR) and enhanced graphics.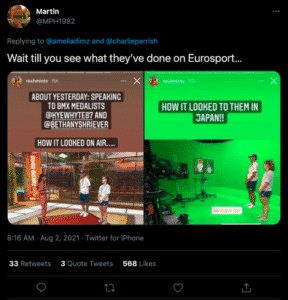 Creating a visual VR masterpiece
The BBC's Tokyo cityscape is a fantastic piece of visual art, and shows us just how far technology has come in recent years to be able to create such stunning visuals. The entire skyline has been modelled and bought to life in 3D. 
We're forecasting a huge shift in the broadcasting world. This type of green screen technology will have a huge impact on how television is produced in the future. Excitingly, creative that was limited to high end Hollywood budgets is now accessible to the masses.  
We were very impressed and you should be too!