"Yo LIQUONA. We really liked the #ChoosePsychiatry 2021 film that you made. Let's work together again this year – but can you cook up a new concept to keep things fresh?"
"No problemo amigo", we said.
"Keeping things fresh is what we do!" we said.
'They then said something like...
"Our aims for the campaign and the hero video are 2-fold:
1. To promote a career in psychiatry to medical students and foundation doctors.
2. To encourage trainees who consider taking a career break or are taking a break to come back to psychiatry. It's a challenging career sometimes but it's ultimately incredibly rewarding."
And that's how it started*!
*We may have paraphrased the conversation a little; the transcript is from memory.
Anyway, we undertook a scoping process,  developed the creative concept and produced a film that wove the stories of patients helped by psychiatry, and the stories of psychiatrists at different stages of their career.
Each short story had to convey a lot, and each story was an opportunity to snapshot some of the many routes that psychiatry can take. It is a hugely varied area of medicine and this needed to come across.
The psychiatrists we featured are all practising, and the patients that we featured are, for obvious reasons, all actors that we cast, with stories that we scripted to be typical of the experiences of many patients helped by the college's members.
So how did it go down?
Thank you for all your hard work! We launched yesterday setting new records.

The most website page views for a Choose Psychiatry launch day! Stephen Fry tweeted to his 10.5 million followers. Not bad for day one!!
Director, Royal College of Psychiatrists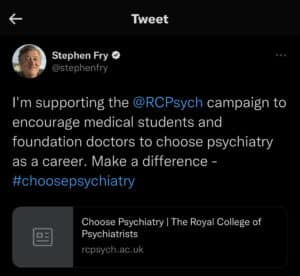 After 2 months we've had 47k visits to the website and 5k re-visits.
Director, Royal College of Psychiatrists
An interesting feature to this project was that for the acted role of a patient with PTSD, we were able to find an asylum seeker from a war torn region, who is now living in the UK and acting.
Whilst this approach brought added authenticity to the role, it also required additional safeguarding structures and a well considered approach to ensure the actor wasn't put in a situation which might cause an emotional trigger. This component of the project was an absolute highlight for our team, and we're grateful to Compass Collective  for their help in making this possible. They help young refugees and asylum seekers build resilience and integrate into the UK through the arts!
---
Award Winning Film
HIGHLY COMMENDED in the 2023 MEMCOM Membership Excellence Awards for Best Recruitment Strategy.
WON GOLD IN BEST MARKETING PROJECT OR INITIATIVE
SILVER IN BEST BLOG PODCAST OR VIDEO
BRONZE IN BEST AWARENESS CAMPAIGN OR ADVANCEMENT OF A CAUSE
"A well thought out campaign with clear objectives and impressive results. Great use of multiple channels to deliver messages to different audiences."
"It made me wish I could be a psychiatrist!"
"Simply excellent. A wonderful asset to deliver on a noble cause. Very impressed by the calibre of supports and the metrics attached to video. Great work."
"excellent film merging professionals with patients in a powerful way. creates enthusiasm for the topic."
"A very creative way of promoting the importance of the profession and the impact of psychiatry. Good amplification via social media and influencers."